This article is part of our MLB Observations series.
The 18-team Staff Keeper League auction/draft took place Thursday night. My team (co-owned with Tim Schuler) usually finishes in the money, but we're in a rebuilding phase with fairly mediocre keepers heading into the year. I wouldn't see we're tanking yet – you always want to see if something unexpected happens, but we'll cut bait on the year fairly early if our guys don't exceed expectations by a fair amount.
Before I get to the results, some parameters are in order. It's a 5 x 5 league with the standard $260 budget and 23-player roster with seven reserves. Each team can keep up to 15 players, and players are kept for the price at which they're bought for up to three years. Before the third or "C" year, owners decide whether and for how long to extend players at an increase of $5 per year extended. So we had an expiring Patrick Corbin for $1 in 2018 and elected to keep him through this year at $6. That means he cost us $6 in both 2019 and 2020, after which we have to throw him back. We could have simply kept him for $1 and thrown him back into the pool after 2019, or we could have paid $11 per year and held onto him through 2021, or $16 and held onto him through 2022, etc. We rarely keep players more than three years because of injury/performance risk and the time value of auction dollars.
Moreover, after the auction is completed, we have a draft wherein each team gets 10 minor leaguers and seven reserves (all drafted together.) Some minor leaguers are kept from the prior season, shortening the draft for some teams. Reserves who are kept begin their keeper clocks the following year at $5A, and minor leaguers who are promoted (they have to be promoted after a given number of major-league games) begin at $3A the following year.
Here's the team I bought at auction (Keepers are in black, new purchases in red:)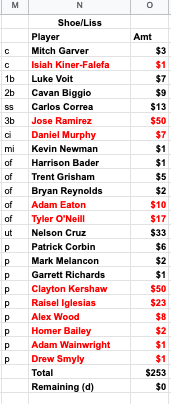 First off, note the significant inflation in the player prices. This happens in every keeper league because when Mitch Garver is only $3 and Corbin only $6, and we multiply that effect over 18 teams, the remaining player pool is going to get pushed up significantly (And we don't even have good keepers.) Second, notice we had only $253 rather than $260 to spend – that's because we traded an expiring Mookie Betts for a $13 Luis Severino last year, and we had to drop him and eat the loss of half his salary when he tore his UCL. I felt I did pretty well, under the circumstances, getting good prices on Jose Ramirez and Raisel Iglesias, but I blew it in the end game when I spent $17 on Tyler O'Neill. I thought I was the only one with money left and went to the mat for the best remaining outfielder, but discovered there were a couple others, once the google doc updated, and that cost me a few end-game pitching targets.
Still, I'm reasonably happy with the players I got at their respective prices, and I'm especially pleased with our minor leaguers and reserves: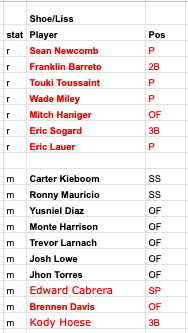 I tried to get a mix of pitchers slated to log innings right away – it's an 18-team league, so as long as they have decent matchups, you play them, and post-hype guys like Newcomb, Toussaint and second baseman Franklin Barreto. Keeping seven minor leaguers made the draft a lot easier for me, and I used my first three reserve picks on Cabrera, Davis and Hoese, more or less hewing to the available ones on James Anderson's list.
Here are the overall auction results: (view larger image)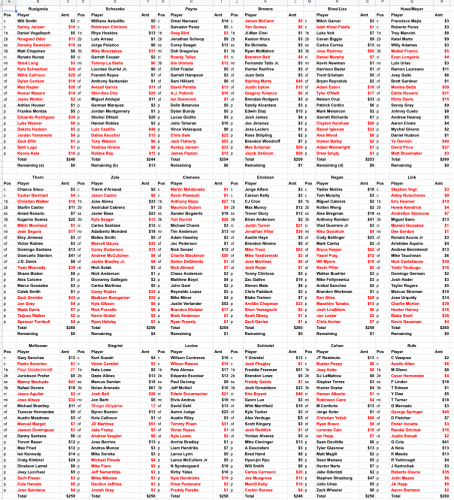 And the overall minor league reserve results: (view larger image)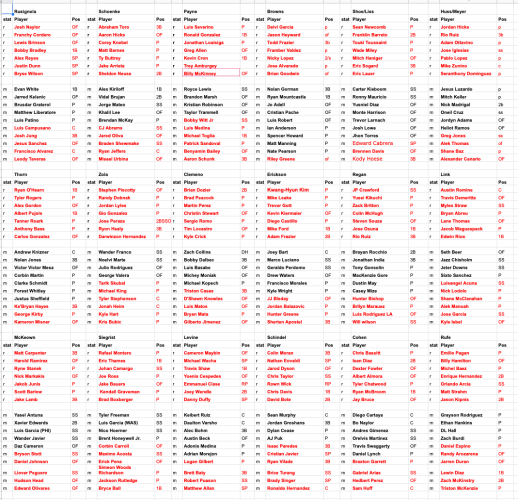 And finally the order in which the minor league/reserves were drafted: (View larger image)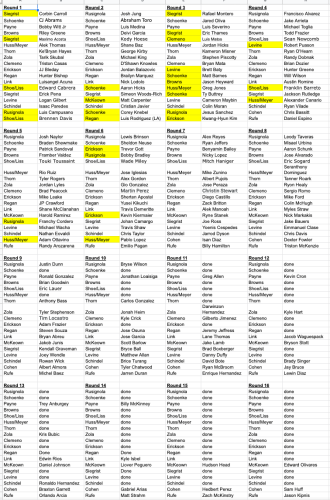 One final note. It probably looks like participating in/administering this kind of league is a huge pain, and that's especially the case if you're in Europe, and the auction starts at midnight your time. But miraculously, the whole thing was done in five hours, by far the least amount of time it's ever taken. The big change this year was limiting people to one minute in the reserve/minor league rounds with a penalty of allowing the next person to pick if the time expired. Instead of people waiting until their pick and doing three minutes of research each time they were up, almost everyone had picks at the ready, and only rarely did anyone need to be skipped. Because I kept so many minor leaguers, I was actually done at 4:30 am and got five hours of sleep.