This article is part of our MLB Observations series.
Apparently, people still wanted to draft with even the possibility of baseball returning sometime this summer, so I did one more. The NFBC RotoWire Online Championship consists of 12-team, $350 entry-fee leagues with a $1400 league prize, and a $125K overall prize. It's a standard, 5 x 5 format with 23 starting roster spots (14 hitters and nine pitchers.)
I drew the eighth pick. Here are the results: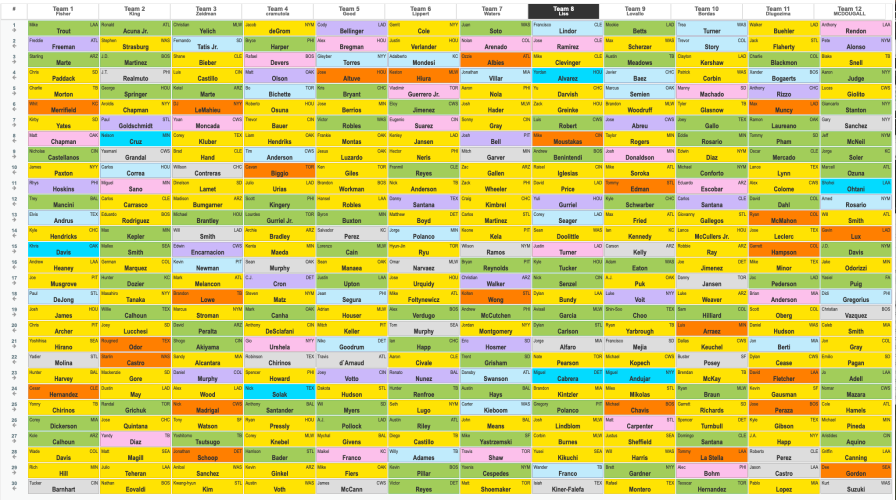 To zoom in on the image, click here.
1.8 Francisco Lindor – I had wanted Juan Soto, but he went one pick before me, so I took the power/speed shortstop who's the best real life player among the big three. (I considered Walker Buehler, but figured I'd get my ace in the second round instead.)
2.5 Jose Ramirez – Jack Flaherty and Max Scherzer went ahead of me, and I already have too much Justin Verlander. I grabbed another power-speed guy and aimed for Clayton Kershaw as my ace in Round 3 .
3.8 Mike Clevinger – I didn't expect him to fall this far, but was happy to grab him, even with Kershaw still on the board. Oddly, my first three picks were Indians.
4.5 Yordan Alvarez – Let's be honest – the season might not even happen, so this was a YOLO, FOMO, DGAF draft even by my standards. I had been wary of taking Astros (remember the cheating scandal?), and Alvarez was hurt (he's now got at least two extra months to heal), but he also fit my steals-heavy team perfectly with elite power and batting average.
5.8 Yu Darvish – Pitching had been inflated in my prior NFBC drafts, so I wanted a second starter now. Darvish was a monster once he found himself last summer. I also considered Lucas Giolito and Tyler Glasnow.
6.5 Zack Greinke – Neither Giolito nor Glasnow made it back to me, so I had a tough call between Greinke and Yoan Moncada. I went with Greinke because I felt there was a big drop-off at pitcher after him.
7.8 Luis Robert – I wasn't targeting him, but his skills stood out the most at this point, and I needed outfielders.
8.5 Mike Moustakas – My primary need was power. Alvarez is great, but Lindor and Ramirez aren't huge for first and second-round picks, and three of my first six picks were pitchers. Moustakas in that park offers extra pop from second base.
9.8 Andrew Benintendi – He's one of three players I've taken in all three BCL drafts. I'd have preferred more power, but I needed another outfielder, and he should fill up the boxscore if he hits lead-off for the Red Sox.
10.5 Raisel Iglesias – It was earlier than I wanted to jump on a closer, but they were flying off the board, and he was easily my top choice. I prefer veterans who have had the job for a few years.
11.8 David Price – I probably could have used another power bat, but I didn't see any that jumped out once Miguel Sano was gone. Price could be an ace on that team if he's healthy.
12.5 Yuli Gurriel – First base was drying up. I could have gone with more power in Edwin Encarnacion, but I could see him having an off-the-cliff year. Not that Gurriel is a spring chicken.
13.8 Corey Seager – He's still only 26 years old, and he could provide above-average pop for a middle infielder.
14.5 Sean Doolittle – He's a veteran closer with a job. The third tier were also flying off the board at this point.
15.8 Justin Turner – He was simply the best hitter left on the board, but again, one with only middling power, especially for a corner infielder.
16.5 Kyle Tucker – A little Alvarez and possibly even Gurriel insurance if either were to miss time. And the kind of upside that can help you win an overall contest.
17.8 Nick Senzel – Another unproven power/speed upside pick, and the second of three players on all of my BCL teams. My outfield of Robert, Benintendi, Tucker and Senzel is awfully risky, but the reward if they hit would be massive.
18.5 Dylan Bundy – The third player who I have in all three BCL leagues. Once one of the top pitching prospects in baseball, he's finally out of Baltimore.
19.8 Avisail Garcia – I needed a fifth OF, and I like his park and setup.
20.5 Dylan Carlson – He's RotoWire's No. 6 overall prospect, one slot behind Robert. And he has a good chance to get at-bats, especially if there's a free-for-all in terms of service time this summer and expanded rosters.
21.8 Jorge Alfaro – I'm required to have two catchers, and he is one.
22.8 Nate Pearson – He might start the year at Triple-A, but he throws 100, and could be in the rotation after a few starts. (I didn't realize until after I picked him that he wasn't starting the year in the rotation – I missed our March 28th note.)
23.8 Miguel Cabrera – If he's truly healthy – and who knows how long that will last – I still believe he can hit. Last year, he was playing on a bad knee and using only his upper body.
24.5 Brandon Kintzler – He's ostensibly still the closer in Miami, though he struggled early in the spring.
25.8 Gregory Polanco – He's reportedly healthy again and still only 28 years old.
26.5 Josh Lindblom – He reinvented himself in the KBO the last couple years and became an ace. He's in the Brewers' rotation, so we'll see if it translates to MLB.
27.8 Corbin Burnes – He disappointed last year, but he misses bats, had a strong spring and could wind up in the Brewers' rotation.
28.5 Yusei Kikuchi – He was bad last year, but he was a star in Japan before that, did some tinkering on his repertoire and mechanics this offseason and gained some velocity.
29.8 Wander Franco – He's probably a year away, but with the expanded rosters, all bets are off.
30.5 Isiah Kiner-Falefa – He changed his swing this offseason, and he raked in spring training. It looks like he'll get a shot as a super utility guy, too.
By Position
C Jorge Alfaro/Isiah Kiner-Falefa
1B Yuli Gurriel
3B Jose Ramirez
MI Corey Seager
OF Luis Robert/Andrew Benintendi/Kyle Tucker/Nick Senzel/Avisail Garcia
SP Mike Clevinger/Yu Darvish/Zack Greinke/David Price/Dylan Bundy/Nate Pearson/Josh Lindblom/Corbin Burnes/Yusei Kikuchi
RP Raisel Iglesias/Sean Doolittle/Brandon Kintzler
Bench: Dylan Carlson/Miguel Cabrera/Gregory Polanco/Wander Franco