This article is part of our Best Ball Journal series.
This article will look at some of the players in DRAFT best ball leagues who have seen their ADP jump in recent days. The numbers next to the player names indicate their ADP, the sample on the left being 7/22-8/1 while the right draws from 8/7-8/14.
The players blurbs are listed from earliest ADP to latest.
Chris Carson, RB, SEA (54.7 → 45.3)
Because a lot of these guys are players I covered previously, some regrettable but unavoidable amount of self-plagiarism will occur. I wrote about Carson in this week's job battles article, and I'll need to repeat a lot of that here. The basic deal with Carson's surge – which might not stop at 45.3, by the way – is that the Seahawks have taken to the press to campaign for a bigger pass-catching workload for Carson. Carson's work as a pass catcher to this point makes this look like a good idea.
Although he hasn't done it much so far, the targets Carson has seen so far were targets well spent, with him catching 27 of 32 of them for 222 yards, good for an 84.4 percent catch rate at 6.9 yards per target. That kind of efficiency is a real asset, and Seattle would be smart to explore it further rather than designate snaps for an ostensible pass-catching specialist. Carson, Rashaad Penny, and Mike Davis combined for 78 targets last year on 427 team pass attempts. If the Seahawks throw 450 passes with the same running back share in 2019, then Carson and Penny could have something like 80 targets to split among themselves, in which case Carson could secure 50 or so and thus upwards of 40 receptions after catching only 20 last year.
SPONSORED NOTE
Draft Different with a 2019 Fantasy Draft Board + Player Labels from 360 Fantasy Football Draft Boards! View Top Rated Draft Boards + Draft Kit Add On's. 100% Money Back Guarantee. Promo Code ROTO50 CLICK HERE
With 247 carries in 14 games last year, a 16-game projection for Carson could approach something like 280 carries and 40 receptions. He has substantial injury concerns and probably shouldn't be expected to do quite that, but the upside stands out in his range of the ADP. I'd much prefer Carson at 45.3 than David Montgomery at 41.5 or Josh Jacobs at 37.8, for instance.
Miles Sanders, RB, PHI (84.8 → 69.4)
Sanders' ADP skyrocketed after the Eagles selected him in the second round of the 2019 draft, then it tumbled following a quote from Eagles running backs coach Duce Staley stating that the Eagles would continue to employ a running back committee despite Sanders' arrival. We're talking a fifth-round peak preceding a fall to the 10th-round range.
Staley made those comments in mid June, though, and since then the training camp reports for Sanders have been glowing across several Philadelphia media outlets. Some have even declared Sanders the team's best running back. I don't know by what metric they would make this determination. As a skeptic of sports media growing increasingly click-conscious and keenly aware of the vastness of the fantasy sports demographic, I'm leery of appointing any beat writers as the judge on this question, especially when we still have every indication from Eagles coaches that they plan to run a committee again. Even if we accept the premise that Sanders is better than Jordan Howard right now, there's nothing in that premise that would contradict Staley's earlier statement. The statement 'we plan to split carries' is in no way dependent on Sanders being the second-best back.
As long as the Eagles intend to stick with a running back by committee, I'm mostly inclined to view Sanders and Howard as a 1A/1B situation in whichever order you'd prefer. Since Sanders goes at 69.4 and Howard goes at 97.8, though, I have little interest in Sanders at the current price. I doubt Sanders' price will fall if he stays healthy, though, so it's possible that the price will only increase from here.
Curtis Samuel, WR, CAR (89.8 → 79.0)
I and others have pushed the idea of ranking Samuel ahead of D.J. Moore for well over a month, and the market continues to take the suggestion more seriously as time passes. That's because the praise for Samuel just won't stop, with training camp observers and Carolina coaches unanimously declaring Samuel a breakout player in 2019.
Samuel was available as late as the 10th round earlier this offseason, and as you can see from the latest ADP, you often times need to take him in the seventh to secure a share as of press time. Samuel is now going ahead of Sammy Watkins, Marvin Jones, and Corey Davis, with Dante Pettis, Will Fuller, and Jarvis Landry in his sights next.
I'm going to do some of that self-plagiarism I warned about earlier, because I don't think I can explain myself better than I did on July 5: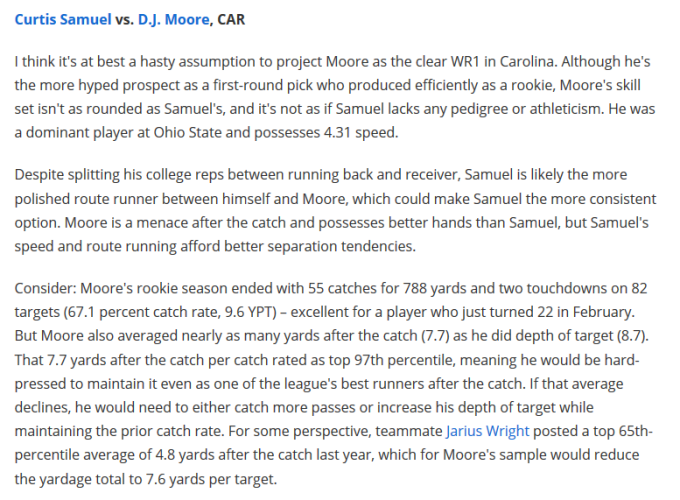 I definitely agree with ranking Samuel ahead of Davis, Jones, and Landry, but I'd have to place him alongside rather than ahead of Watkins, Pettis, and Fuller. As much as I'm high on Samuel and consider him Carolina's best receiver, it's important to keep in mind that Cam Newton is more likely to throw for 3,300 yards than 4,000, and given that there is only so much upside with Samuel, even if he displaces Moore as the team's top receiver. I'm willing to keep buying in the meantime, the sixth-round range is where I become unwilling to pay for Samuel.
Lamar Jackson, QB, BAL (128.9 → 117.4)
Jackson's stock is on the rise due to positive media coverage of his training camp performances, which have in turn resulted in fantasy media hyping him more often as a sleeper. That's about all there is to it.
As an unhinged Jackson truther, I have of course been a buyer of Jackson this offseason. Indeed, he is my most-owned quarterback on DRAFT just before Cam Newton and Kyler Murray. I think I'm comfortable selecting Jackson as soon as the ninth round if I need to, but hopefully it won't come to that.
I'm high on Jackson primarily because of his talent, but the circumstances strike me as favorable for 2019, too. Cleveland and Pittsburgh should set a high scoring pace in the division, which bodes well for the urgency of the Baltimore playcalling, and the assemblage of surrounding talent strikes me as a perfect fit for Jackson's skill set. Marquise Brown, Mark Andrews, and Miles Boykin all pose threats to the safeties that otherwise need to read the run to assist if Jackson breaks the pocket, yet with those three running downfield the safeties will quite simply need to choose to either turn and run or let the receiver run in single coverage, and Jackson's downfield passing ability is better than most seem to think. New offensive coordinator Greg Roman was running the show during Colin Kaepernick's big seasons in San Francisco, and Jackson is a much better prospect than Kaepernick was at the time.
Carlos Hyde (132.5 → 122.9) and Darwin Thompson, RB, KC (204.3 → 180.9)
Damien Williams missed time with a hamstring injury from July 28 to August 12, missing exactly two weeks of practice. That was enough for many to declare Williams expired and discarded, reasoning that the backfield in Kansas City was free for the taking as a result. That was stupid.
The fire was stoked further by a comment by coach Andy Reid, who said that he planned to utilize a running back committee in 2019. Reid didn't define what constituted a committee, so his specific vision remained unclear despite the ostensible insight of the quote. To be fair, Reid's comment is still a more justifiable reason to fade Williams than Williams missing a completely reasonable amount of time with a common, minor injury.
But for all anyone knows, Reid's definition of a committee might be satisfied merely by three or more runners seeing a single snap in a given game. Indeed, that he named Darrel Williams as part of the hypothetical committee all but makes clear that Reid isn't specifically talking about from-scrimmage functions in competitive situations. Darrel is a fullback tweener who went undrafted out of LSU after running a 4.72-second 40, and I have some excellent investment opportunities for you if you believe that guy can run with Damien for even a second. In other words, Reid might have called the Kansas City offense a running back committee even when Kareem Hunt was starter. There's further evidence of this in the fact that Reid's quote referenced committees 'like he used in Philadelphia.' Reid very rarely utilized running back committees in Philadelphia, so either his memory is failing or his definition of a committee is rather inclusive.
With all of that said, it makes sense to invest in Hyde or/and Thompson merely to speculate on Damien's chance of injury. Damien's durability is far from proven – he had a bum shoulder a year ago that required surgical repair, and he hasn't taken on a big workload since graduating at Oklahoma in 2013. What makes less sense is reaching for Hyde or Thompson with the fantasy that Williams will suddenly stop being a fast 220-pound back with plus pass-catching ability. His skeptics need to accept that. Even if he's a system back – and like any recent Chiefs running back, he likely is – all available evidence still says that he's the best at running the system out of the current group of candidates.
Matt Breida, RB, SF (153.4 → 133.4)
Breida's ascent is almost certainly due to Jerick McKinnon's worsening prognosis as McKinnon attempts to make his return from last year's ACL tear. McKinnon suffered a setback that necessitated PRP treatment, and with no clear timetable at this point the possibility of an IR stint was raised.
I've considered Breida the superior player all this time, so McKinnon's status was always close to immaterial to me. I've been taking Breida as late as the 15th round all offseason, I always considered him more like a 10th-round value. As much as I'm high on Tevin Coleman and consider him the most valuable runner in the San Francisco backfield, there might be room for two impact runners in this offense, and Coleman's durability can't be taken for granted in any case.
I'm definitely going to keep buying Breida at 133.4 – placing him at the end of the 11th round – but I can imagine his ADP going even higher than that in the days ahead.
Duke Johnson, RB, HOU (172.1 → 136.0)
I'll need to resort to more self-plagiarism on this one. Following Duke's trade to Houston, I spent about 2,000 words writing up a free blog post Friday in which I went through the process of calculating projections for Johnson and Lamar Miller in 2019. You can read that here.
My projections ended up leaving Duke with a bigger point total in DRAFT's 0.5PPR scoring than Miller, whose ADP rests at 72.5. If I consider Duke (10.42 PPG) more valuable than Miller (9.64 PPG), then I obviously will keep buying Duke at 136.0. I'm willing to pay much more than that, in fact, because I think there's a case to make for Duke as early as the eighth round. I of course won't take him anywhere near that soon unless he starts actually costing that much, but that's how much profit potential I see him in right now.