In recent years during RotoWire's annual summer trip to Las Vegas, I drafted in two leagues - the RotoWire Vegas League, which was a snake draft with standard (non-PPR) scoring, and the Sin City Showdown, which is an auction league with both RotoWire representatives and other industry folks, mostly from Yahoo Fantasy Sports. Yahoo, ESPN and NFL.com now call auction leagues "Live Salary Cap Drafts" and bids are now called offers, though I'm still adjusting to that verbiage. Monday night was the Sin City Showdown.
When looking at these results, it's important first to realize that the settings are different than most leagues. Not only is it a Superflex League, but it's also a two-TE and two-Flex league, with no kickers. Passing yards are one point for every 25 yards to slightly diminish QB values, otherwise the scoring is pretty normal for a half-point PPR league. We had a $200 budget.
Here are the results: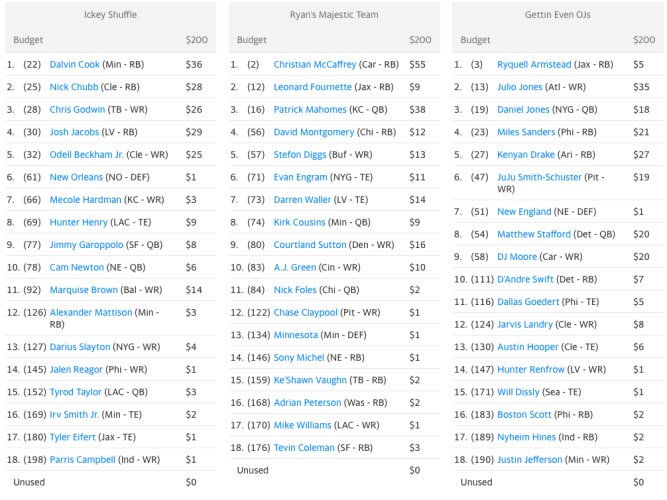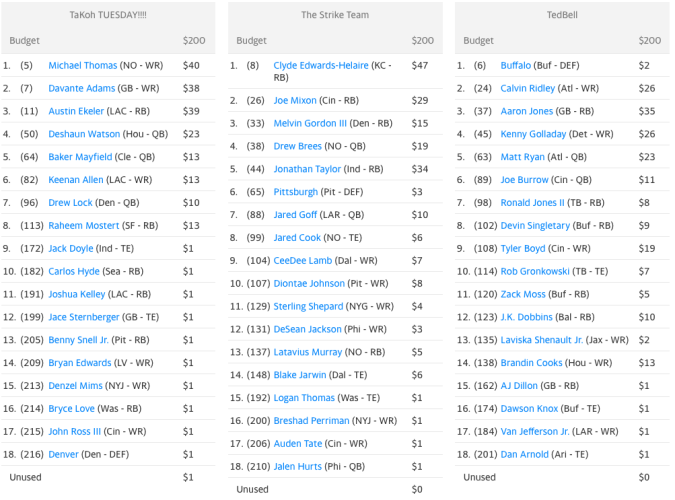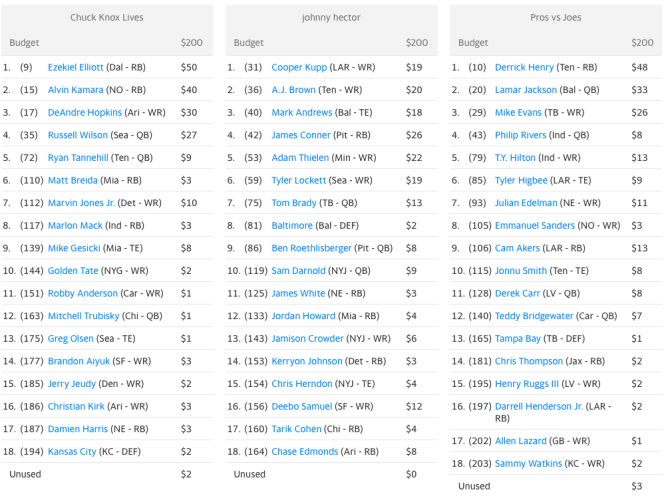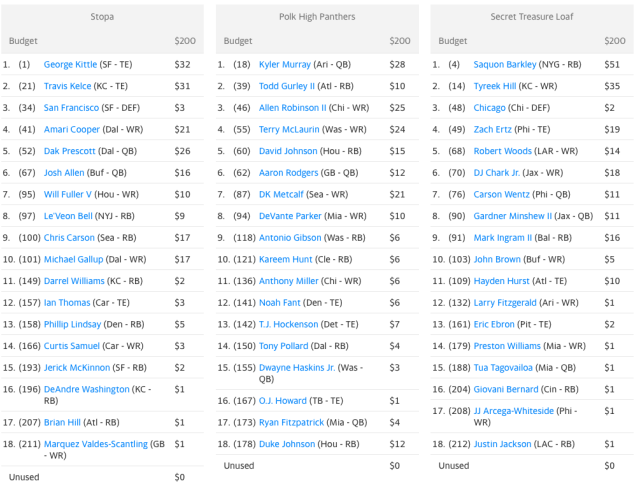 When you look at the results, the RB prices seem low, especially for the top tier guys. That's a function of it being a SuperFlex (read, two-QBs in all but the rarest of circumstances) league, along with the extra starting spots. You need the budget to fill three more starting spots than you normally would. It takes awhile to get used to that factor. We used to have 14 teams in this league which really added the pressure at QB and TE, but we were at 12 this year. To help account for this, we added a second "normal" flex spot.
Traditionally I've done better in this league using a balanced roster approach instead of a stars-and-scrubs plan. Still, I wanted to get a couple of anchors, at least one at RB and another at WR, as part of my roster build. This was my original loose slotting approach:
QB (3): $30 - whenever you can get three quarterbacks in a SuperFlex league, I highly recommend it. It's hellish finding a starting QB on the waiver wire, and for every Gardner Minshew that you find there, there are two Mason Rudolphs. Even if all three remain healthy, it's handy to be able to optimize for matchups, and in a pinch it's great to have one in a trade.
RB: (2): $60 - I don't love the middle-tier backs, so I was hoping to maybe go $30-$30, or $35-25 here.
WR (3): $70 - That can be structured 40-20-10, or 25-25-20, either way actually can work. But I wasn't planning on paying up for Michael Thomas or Davante Adams this year, at least in this league.
TE (2): $15 - I wanted to make sure I didn't get stuck here, as I have in many other occasions. This won't get you any of the big four TE's (Kelce, Kittle, Andrews, Ertz), but it affords me the ability to fish in the next pond down, which is fine in a two-TE league.
FLEX (2): $15
DEF (1): $1
Bench (5): $9
I made one major deviation from this strategy, to try to take advantage of what I perceived to be an inefficiency in the pricing of the end of the top RB tier. As a result, I spent less on quarterbacks than I planned, which is my biggest weakness.
You'll note the number in parenthesis next to player on each roster - that's the order of nomination. I didn't get a player until the 22nd nomination, which is actually pretty late for me. Often in an experienced league, the best deals aren't around for those who wait, but rather can frequently be the first few players out of the chute. In a league with unusual settings such as this, it's hard to develop a good sense of what is a good value, at least in comparison to other leagues, but at least the RotoWire Draft Software gives you a good estimate. I love the Draft Software and use it whenever I have a live draft - it's a feature for subscribers-only, so if you're on the site now on a 10-day trial (and thank you for exploring what we have to offer!), hopefully that's an inducement to subscribe. Anyhow, aside from Ryquell Armstead ($5) and Leonard Fournette ($9), I didn't see any individual players among the top-20 that screamed bargain to me, and a couple of players, namely Derrick Henry ($48) and Austin Ekeler ($39) felt a few bucks overpriced.
But the back end of the top tier of RBs started coming up, and their prices felt a couple of dollars short. I nearly got Dalvin Cook at $28, but Andy Behrens ruthlessly "+1'd" me with one second remaining on a bid four times in a row. I ended up getting him at a dollar or two below what we had him worth in the software, but it wasn't the clear bargain I was hoping for. But it gave me inspiration that I'd get my next RB target, either Nick Chubb or Josh Jacobs, for $30 or less. Sure enough, I got Chubb on my nomination at $28 three players later. Jacobs came up five players later, and getting him at $29 was a critical decision to go cheaper at QB and with my third WR slot. I wanted to avoid RBs in the Todd Gurley/Leonard Fournette/David Johnson tier, and frankly it's never a bad thing to be stronger than your competition in a flex spot.
But that meant for sure that I had to adjust my budget downward at QB, from $30 to $20, and WR from $70 to $65. If I wanted three starting QBs, that meant I wasn't getting any of the top-10 QBs. But here's the thing ... I've frequently done that in snake drafts! Yes, we're only starting one, so that's a much bigger deal, but if I'm comfortable doing it there, I should here. Maybe my pivot should have been to get a fourth quarterback, though.
Here's my final roster:
QB - Jimmy Garoppolo $8, Cam Newton $6
RB - Davlin Cook $36, Nick Chubb $28
WR - Chris Godwin $26, Odell Beckham Jr. $25, Marquise Brown $14
FLEX - Josh Jacobs $29, Darius Slayton $4
TE - Hunter Henry $9, Irv Smith $2
DEF - New Orleans $1
Bench - Tyrod Taylor $3, Mecole Hardman $3, Alexander Mattison $3, Jalen Reagor $1, Tyler Eifert $1, Parris Campbell $1.
I couldn't get my top TE2 targets - T.J. Hockenson, Noah Fant, Blake Jarwin - but I like Irv Smith plenty. I grabbed a third TE in Eifert in part to account for that. I honestly didn't expect Hardman to stop at $3, as plenty of my colleagues in the industry like him, and he came up early enough, but that's fine. Mattison is my only backup connected with my starting back, just in case Cook becomes a holdout. I should have grabbed another lottery ticket running back, but realize I have three different starting RBs now, all with different bye weeks. Moreover, I'm going to be able to put Reagor on one of our three allotted IR spots once FAAB bidding begins, so I can add another RB that way. I view the bench spots in this league as upside plays and not necessarily backups, given the starting roster flexibility that we have.
I'm pretty happy with the team, though - it's built similarly to the teams that have done well in this league in the past, and I think I timed the market pretty well on Chubb, Jacobs, Beckham and especially Brown.