This article is part of our NFL Observations series.
A.J. Brown (ADP 24, WR 6) is underpriced
It's hard to be a bargain at WR6, but Brown could easily be WR1 in 2021, given the lack of competition for targets (both Corey Davis and Jonnu Smith are gone) and his otherworldly efficiency. As a rookie, Brown led all wideouts with 80 or more targets with 12.1 YPT, and last year, despite suffering injuries the team's medical staff thought were season ending and on which he needed surgery on both knees, he managed 10.1 YPT (T-2nd.) In short, Brown is the league's most efficient receiver, and now he'll be one of its most highly targeted ones too. He's 24 years old – peak age for a receiver – and he scored 11 times, despite only 12 red-zone targets, something that should increase now that he's the only game in town.
Cooper Kupp (ADP 57, WR 21) is underpriced
Kupp is an odd specimen, a big, (6-2, 208), but not very fast (4.62 40) slot man who runs good routes and catches anything thrown his way. When healthy he's been more efficient and productive than Robert Woods, and he's also the player to whom the Rams look in the red zone. With Matthew Stafford constituting a significant upgrade over Jared Goff and the Rams not making offseason acquisitions that would diminish his role, Kupp should be the top receiver on a potential top-10 passing offense.
Jonathan Taylor is the safest back on the board
He'll cost you an early first-round pick, and probably doesn't have the pass-catching upside of Christian McCaffrey, Saquon Barkley or Alvin Kamara, but he's the least risky of the top backs. McCaffrey's a 205-pound workhorse coming off an injury-riddled year, Kamara is adjusting to life after Drew Brees, Dalvin Cook has missed games every season, (21 total over his four-year career), and is coming off a 312-carry/14-game season, Barkley is returning from a torn ACL and Derrick Henry, including the playoffs, has had 784 carries the last two years. Taylor is 22, stayed healthy last year, took on a big workload as the season went on, is playing behind a good offensive line on a run-first team and faces the softest division in the league. Nick Chubb is the other safe back, but Kareem Hunt limits his upside more than Taylor's backups.
Broncos Stack
It's possible Aaron Rodgers mends fences with the Packers and plays in Green Bay this year, but if he doesn't, a trade to the Broncos would make a ton of sense. John Elway brought in Peyton Manning late in his career, and Denver is loaded with skill position players and has a good defense, i.e., it's an ideal landing spot for Rodgers.
As of May 25, here were the odds of Rodgers' various landing spots per Draft Kings: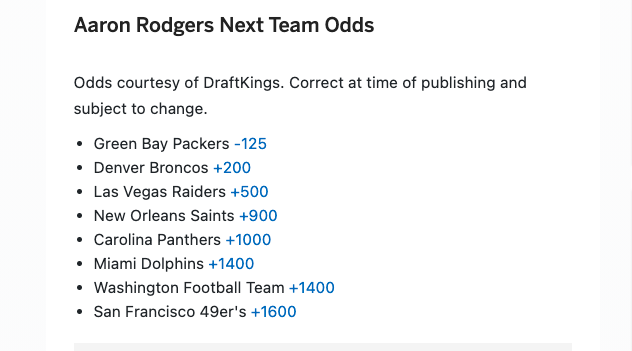 It's +200, which means the real odds are probably more like 3:1, but that's a 25 percent chance, a significant enough possibility to leverage in overall high-stakes contests. Per current ADP, you could draft Courtland Sutton, Jerry Jeudy, Noah Fant and Rodgers in Rounds 5-8, giving you a massive stack should Rodgers wind up in Denver, while still getting your top-four picks. Even if Rodgers stays in Green Bay, the Denver players are perfectly good values, and Rodgers is coming off a 48-passing, three-rushing TD season, i.e., he's likely to be fine as a sixth round pick even if he stays put.