This article is part of our Team Previews series.
Los Angeles Rams

The Rams will go as far as their star power takes them, and quarterback Matthew Stafford definitely returns them to the Super Bowl conversation. Coach Sean McVay has proved capable of maximizing talent, and he'll be able to unleash his offensive playbook fully with Stafford under center.
Offseason Moves
Key Acquisitions
There can't be any complaints about the surroundings now.
Veteran speedster will have the first dibs on a field-stretching role.
Collegiate star will need to prove he's not too small for the NFL.
Key Losses
Could have a steep learning curve without Sean McVay calling the plays.
Reliable veteran has an uphill climb to fantasy relevance in Miami.
Still only No. 3 on the wide receiver depth chart in Tennessee.
Gifted and athletic tight end never took off in Los Angeles.
Tackle machine leaves question marks for the Rams' secondary
A Look Under the Hood
Head Coach: Sean McVay (Year 5)
Offensive Coordinator: Kevin O'Connell (Year 2) - West Coast (wide/outside zone)
Defensive Coordinator: Raheem Morris (Year 1) - 3-4 scheme
2021 Vegas Projected Wins: 10.5 (T-5th)
2020 Record: 10-6
2020 Points Scored: 372 (T-22nd)
2020 Points Allowed: 296 (1st)
2020 Point Differential: +76 (10th)
2020 Run-Play Rate: 44.3 percent (7th)
2020 Offensive Snaps: 1,088 (3rd)
2020 PFF O-Line Ranking: No. 3
Projected 2021 Depth Chart
QB: Matthew Stafford / John Wolford
RB: Darrell Henderson / Xavier Jones / Jake Funk / Raymond Calais
WR1: Robert Woods / Ben Skowronek
WR2: Cooper Kupp / Van Jefferson
WR3: DeSean Jackson / Tutu Atwell
TE: Tyler Higbee / Johnny Mundt / Brycen Hopkins / Jacob Harris
O-Line: LT Andrew Whitworth / LG David Edwards / C Brian Allen / RG Austin Corbett / RT Rob Havenstein (RotoWire Rank: No. 7)
Kicker: Matt Gay / Austin MacGinnis
Top Storylines
McVay's Offense Set for Takeoff with Stafford
In one of the biggest trades of the offseason, Los Angeles shipped out 2016 first overall selection Jared Goff and draft picks for 2009 No. 1 pick Matthew Stafford. Coach Sean McVay never was able to open up his entire playbook with Goff under center, and Stafford should prove to be an immediate upgrade at the position.
Stafford has a deep stable of reliable pass catchers at his disposal, beginning with Robert Woods and Cooper Kupp. The duo has been among the best one-two punches in the league since joining forces in 2017, and there should be instant chemistry with Stafford. The Rams also added speed to the receiving corps with the free-agent signing of DeSean Jackson and second-round selection of Tutu Atwell. The skill positions are rounded out by tight end Tyler Higbee, second-year receiver Van Jefferson and running back Darrell Henderson, who will get a chance to be the No. 1 in the wake of Cam Akers' torn Achilles.
Even with Goff inhibiting McVay's play-calling creativity over the past four seasons, the Rams have been a top-10 offense three times and bottomed out at 12th best. Stafford has had his own limitations with an occasionally underwhelming supporting cast during his 12-year career with the Lions, so there's plenty of reason for optimism that the McVay-Stafford pairing could have L.A. in title contention again in 2021.
Uncertainty in Backfield Following Akers Injury
An Achilles injury will force the Rams' projected top running back Cam Akers to miss the 2021 NFL season. It leaves the depth chart thin and opens up significant opportunities in an expected high-scoring offense. Third-year rusher Darrell Henderson's role and value have increased the most. Even if outside help is brought in via trade or free agency, he was successful as the lead back over a six-game stretch last year with 405 rushing yards, 109 receiving yards and four touchdowns.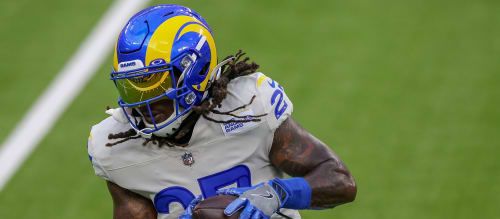 There are also concerns to keep in mind with Henderson, though. He ended the 2020 season on injured reserve with a high-ankle sprain and also has just 177 career carries through two seasons. Additionally, it's widely accepted he lacks the size and power necessary to be a true three-down back.
The Rams may add a veteran to the fold with inexperienced backs Xavier Jones and Jake Funk currently behind Henderson on the depth chart. Jones had an impressive final season at SMU before being limited to a special-teams role with Los Angeles last year. Funk, meanwhile, was a backup at Maryland for most of his five-year stay with a career-high 60 carries in 2020. Both still have a lot to prove. As the team's most-coveted fantasy target, Henderson should be the most productive asset from the L.A. backfield, barring injury.
Can the Defense Withstand Key Losses?
Flash back a year, and the Los Angeles defense was a serious question mark entering the 2020 season, only to allow the fewest points and yards in the league. First-year defensive coordinator Brandon Staley deserves a lot of credit and earned a head coaching job with the Chargers.
Staley's not the only member of the defense moving on, either. Safety John Johnson and slot corner Troy Hill both signed with the Browns after starting all 16 games for L.A. last year. Linemen Michael Brockers and Morgan Fox weren't kept around, either, and they combined for 17 starts and 11 sacks. Finally, 14-game starter and pass rusher Samson Ebukam signed with the division rival 49ers.
The Rams replaced Staley with Raheem Morris, who has 19 years of coaching experience in the NFL and worked with Sean McVay in the past. However, there haven't been any game-changing additions to the personnel. The Rams drafted five players on the defensive side of the ball in the 2021 NFL Draft, but none of them project to slot into the starting lineup right away.
Still, Pro Bowlers Aaron Donald and Jalen Ramsay are cornerstones, and Leonard Floyd was re-signed and is coming off a 10.5-sack showing. While expecting the Rams to finish as the No. 1 defense again probably is a stretch, the talent is there for them to be a unit to be reckoned with.
Barometer
⬆️ Rising: QB Matthew Stafford
Usually on the periphery of QB1 status, Stafford has the potential to take a significant step forward with the Rams. He's surrounded by his best supporting cast in years, and coach Sean McVay is a quarterback whisperer.
⬇️ Falling: TE Tyler Higbee
Remove Higbee's three-TD game from Week 2, and it's an even more forgettable 2020 fantasy season. He only topped 50 receiving yards four times all year, and the Rams are loaded with skill talent to cut into his target share.
😴 Sleeper: WR Van Jefferson
Expectations should probably remain in check, but Jefferson has all the makings of a reliable chain mover in the passing game. His role should expand in Year 2, and he has the acumen and skill to take a step forward.
🌟 Pivotal Player: Cooper Kupp
A high-floor, high-ceiling fantasy producer, Kupp should receive a notable boost from the quarterback upgrade provided by Matthew Stafford. Kupp is an excellent route runner with plus hands, and the fifth-year wideout probably also has positive regression ahead in the touchdown column after scoring just three times in 2020.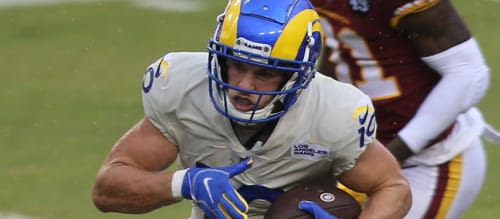 Medical Tent
WR Cooper Kupp
The go-to receiver missed the divisional playoff game against Green Bay last year because of bursitis in his knee. Fast forward, and not only is he expected to be healthy entering 2021, Kupp will receive a notable upgrade at quarterback with Matthew Stafford on board. It's definitely worth noting that Kupp and former signal-caller Jared Goff had excellent chemistry and even were roommates when the receiver joined the team. Still, Kupp projects to be heavily involved in an improved passing attack and should see statistical correction on the TD front.
After ending last season on IR, Henderson was limited during the offseason program due to an undisclosed injury. The Rams may continue to be cautious with the third-year back during training camp, especially with Cam Akers sidelined, as the only established and healthy RB on the roster. Henderson has only 197 touches to his name through two seasons, so the team could be compelled to add depth to the backfield before Week 1. At the moment, though, he's the undisputed leader of his positional group.
With just eight games played over the past two seasons, multiple injuries have limited the veteran speedster's fantasy production. He's healthy entering 2021 and should have a specialist role in the Los Angeles passing attack. However, expecting weekly results likely is asking too much. Jackson clearly is behind Robert Woods and Kupp on the depth chart, and Van Jefferson also should have a complementary role. Rookie Tutu Atwell also has the speed to stretch the field and could cut into Jackson's opportunities as the season progresses.
Job Battle
With Cooper Kupp and Robert Woods solidified atop the depth chart, there's competition for snaps and targets behind the two proven receivers. While it wasn't always a fruitful fantasy setup in the past with Jared Goff, the passing game is projected to be more explosive with Matthew Stafford under center in 2021. Unfortunately for fantasy purposes, coach Sean McVay could utilize multiple receivers to maximize the offense's potential.
Second-year wideout Van Jefferson is likely the best candidate to take advantage. His route running positions him to be a go-to target in a possession, move-the-chains role. Veteran DeSean Jackson, on the other hand, should work in his customary deep-threat role. His speed brings a dimension to this offense that it lacked last year.
Tight end Tyler Higbee also will be involved, and 2021 second-round selection Tutu Atwell's game-breaking speed eventually may help him get in the act. All said, consistency likely will be difficult to ask of from Jefferson, Jackson, Higbee or Atwell. Instead, streaming on a weekly basis or using them as DFS fliers could be the best approach with L.A. pass catchers not named Woods or Kupp.